Garlic and Cilantro Soup with Chickpeas
25/02/18 20:36 Filed in:
food
We had this soup for dinner tonight - wonderful!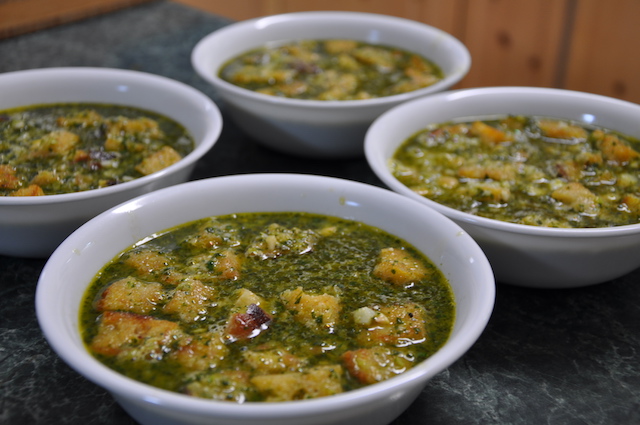 This recipe for Açorda a Alentejana - Garlic and Cilantro Soup with Chickpeas - was downloaded from the Milk Street website. I know nothing of the original form of the recipe, nor have I ever tasted the original recipe.I've been regularly getting the free email news from Milk Street for awhile now, and occasionally recipes are available free to download from the site.The ingredients for this recipe caught my eye, as they are all regular staples in our house, and the soup sounded good.Quickly this soup came together and the only major deviation from the original recipe was to add only one can, not two, of chickpeas. Even with only one can of chickpeas, this soup for four people was satisfying and filling.Lemony with garlic and cilantro, filling with bread cubes and chickpeas, and pleasing with balanced flavors and a hint of spice/heat after each spoonful, this is definitely a soup we will make again.As a first course, this was quite filling for some of my family. For me, it was perfect. I was fully sated from the big bowl I had, yet I could still eat the rest of our dinner (smoked BBQ salmon, creamed spinach, and rice). My compliments to the chef (me)!