Taste Testing: Clear Coffee
A new arrival at stores is a clear coffee. I decided to give it a try.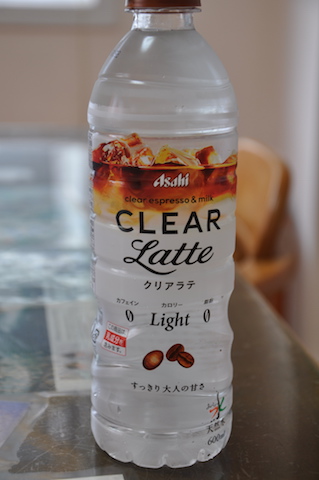 This is a new product from Asahi: Clear Latte. It looks like a regular bottled water, but the label shows you some coffee at the top. It is caffeine-free, and has no fat. There are a few calories, as it is lightly sweetened.I think the goal of this product is to give the essence of coffee, without the strong flavor and color elements. It is described on the bottle as clear espresso and milk.So, how does it taste? Well, it doesn't taste like coffee, but it does taste like coffee.Wait, what....?Clear Latte smells like coffee, but it doesn't have strong coffee aromas. The taste is refreshing and clean, but you'd sort of expect that from a water product. It is very smooth and easy to drink. It is lightly sweetened, but there is no sugary after-taste in your mouth. Each time you take a sip, you taste a smooth, clean coffee taste. While drinking this, my mind was slightly confused. I know that it is not coffee, and I know that it is not water, but when drinking it and tasting the coffee, you keep looking at the glass and checking what you're drinking.I like the bitterness associated with coffee and other foods and drinks, but I also enjoy the taste of coffee when it is sweetened, such as an ice cream, cake or other dessert product.This drink is very satisfying and another benefit for me is that it is decaffeinated. I can take some caffeine, but not too much so I like that aspect of this drink.I'm not sure how popular this drink is, or how long it will last, but for now I'm enjoying it. I've only found it at one store up till now, having checked quite a few supermarkets and convenience stores.If you can find it, give it a try.