Tandoori Chicken
It's the weekend, and that means barbecuing outside. Today, chicken is on the menu.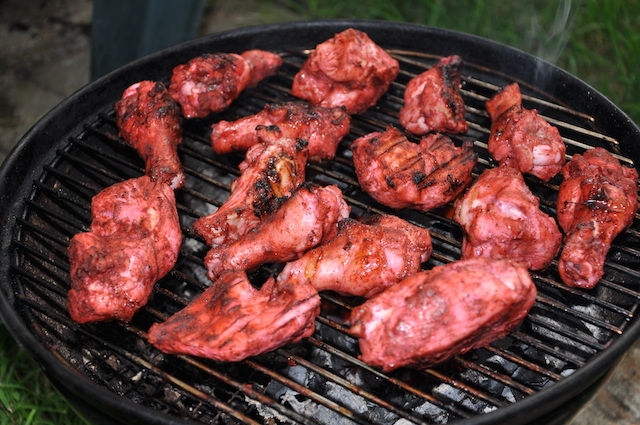 I was flipping through cooking magazines before going shopping today. A picture of some tandoori chicken burgers caught my eye. (Drooooool!) Off we went to do the shopping, knowing we'd have to decide on tonight's dinner menu.
We looked at this and that, but nothing really caught our eyes. We considered the idea of the chicken burgers but decided instead to pick up pieces of chicken. Tandoori chicken was to be tonight's dinner.
I marinated the chicken pieces in spices and yogurt all afternoon hoping that the rain clouds would be kind to us and not rain. If it did rain, I could always cook the chicken in the oven, so I wasn't too worried.
The weather held out long enough for me to start the barbecue, and just start cooking the chicken before the rains came. Up went the large beach umbrella and under the BBQ and I went.
The rains were off and on, but the rain was never too strong, so I could complete the chicken on the barbecue.
The chicken was great, enjoyed with some rice and a salad made from fresh tomatoes and basil.
Now that we're finished, I give my permission for the skies to rain to their heart's content.